In Nuertingen, there are 2 dining halls at the 2 main locations:
Mensa Campus City Centre Building 1 (CI 1)
Neckarsteige 6 - 10, 72622 Nürtingen
Opening hours: 11 am - 2 pm
Mensa Campus Braike (CB, behind the dormitory)
Schelmenwasen 4 - 8, 72622 Nürtingen
Opening hours: 12 pm - 2 pm

Both mensas are only open during lecture periods. 
You can choose from 3 different menus, one of them vegetarian. Prices are between 2.40 and 2.80 € or 70 Cent per 100g from the salad bar. 
You can find the menus for the next weeks at 
(CI 1) http://en.my-stuwe.de/mensa/mensa-nuertingen/
(CB) http://www.johannes-wagner-schule.de/index.php?article_id=28

There are vending machines which offer coffee and other drinks or snacks: one in Campus City Centre (CI 1), which is open from Monday to Friday from 7:30 am to 9 pm and one in Campus Hauber (CH) building which is open from 8:00 am to 2:30 pm.
Pubs, clubs and cafés
There are many cozy restaurants, pubs and bars in Nuertingen which you will discover on your walk through the city. You will find the student bar 'Kleiner Keller' which is run by students in the cellar of the historic old HfWU administration building in the center of Nuertingen's medieval old town. During lecture periods the cellar-bar is open in the evening from Monday to Friday. On some special dates students will show movies in this location. 
Other such addresses in Nürtingen:
Egeo, Pub, Kirchheimerstrasse 20, Tel. 210601
Blue Moon
Blue Bell, Pub, Schillerplatz 5, Tel. 931600
Brenn Bar, Pub, Heilig-Kreuz-Strasse 11
Schaltbar, Pub, Muehlstrasse 15
Hausbrauerei Schlachthof, local brewery, homemade dishes from the region, Muehlstrasse 15
Saustall, Disco, Live-Music, Events, Muehlstrasse 15. Tel. 210006
Cheers, Pub, Schlossberg 6, Tel. 36644
Ecumenical Student Community
The ecumenical church community organises regular events, such as the sight–seeing tour in Nürtingen, excursions or international nights, where they prepare (international) meals and where students get an insight into foreign cultures by the presentations of foreign students. Their program is available at: www.fhok.de
Sports
The student organisation ASTA offers a wide range of sports like volleyball, squash, dancing, slackline, swimming, table tennis, soccer and many more. 
If you want to do fitness or weightlifting there are various fitness centers in Nürtingen:
Parc Trainingscenter is among the best-equipped fitness centers in Nürtingen,  Easy Sports is more affordable. There are many other clubs outside the university that you can join. 
You can go swimming at the public pool in Stuttgarter Straße and there is an open-air swimming-pool next to it which is usually open from the second week of May till the beginning of September.
The "Hochseilgarten" (high–ropes course) in Wernau is a place where you can reach your limits by climbing on woods. You can visit their webpage 
www.hochseilgarten-wernau.de  and find out about their location and prices.
If you enjoy ice skating, you can do that in Wernau (www.eisstadionwernau.de) or in Esslingen (www.esg-esslingen.de) or you go horseback riding at the Riding Club in Nürtingen.

Movies: 
Movie Palace Nürtingen, Uhlandstrasse 10, 6 kino theatres
http://www.kinopalast-nuertingen.de
Corso Cinema International in Stuttgart-Vaihingen offers films in English

Theatre:
Theater im Schlosskeller, Schlossgartenstrasse 3/1
Exchange students can rent a room at the residence hall "Schelmenwasen 10" which is located on the outskirts of Nuertingen next to the university building CB1. To get downtown and to the city campus, it takes about 15 min. by bike or 20-30 min. on foot. During the day there is a regular bus and train connection from the nearby bus stop / train station to the city centre. Online application here: https://tl1host.eu/SWTUE/#admission.
Accommodation Schelmenwasen 10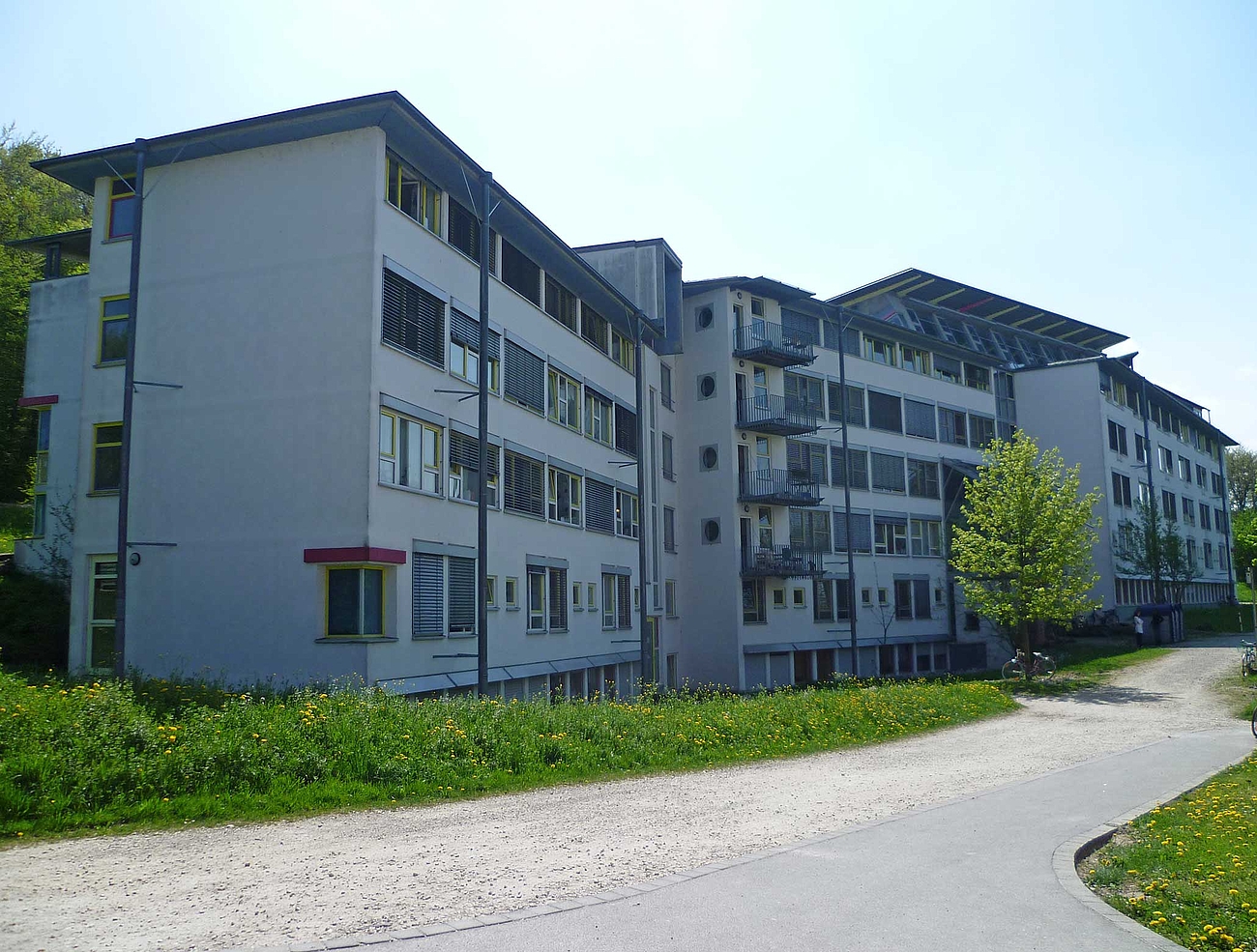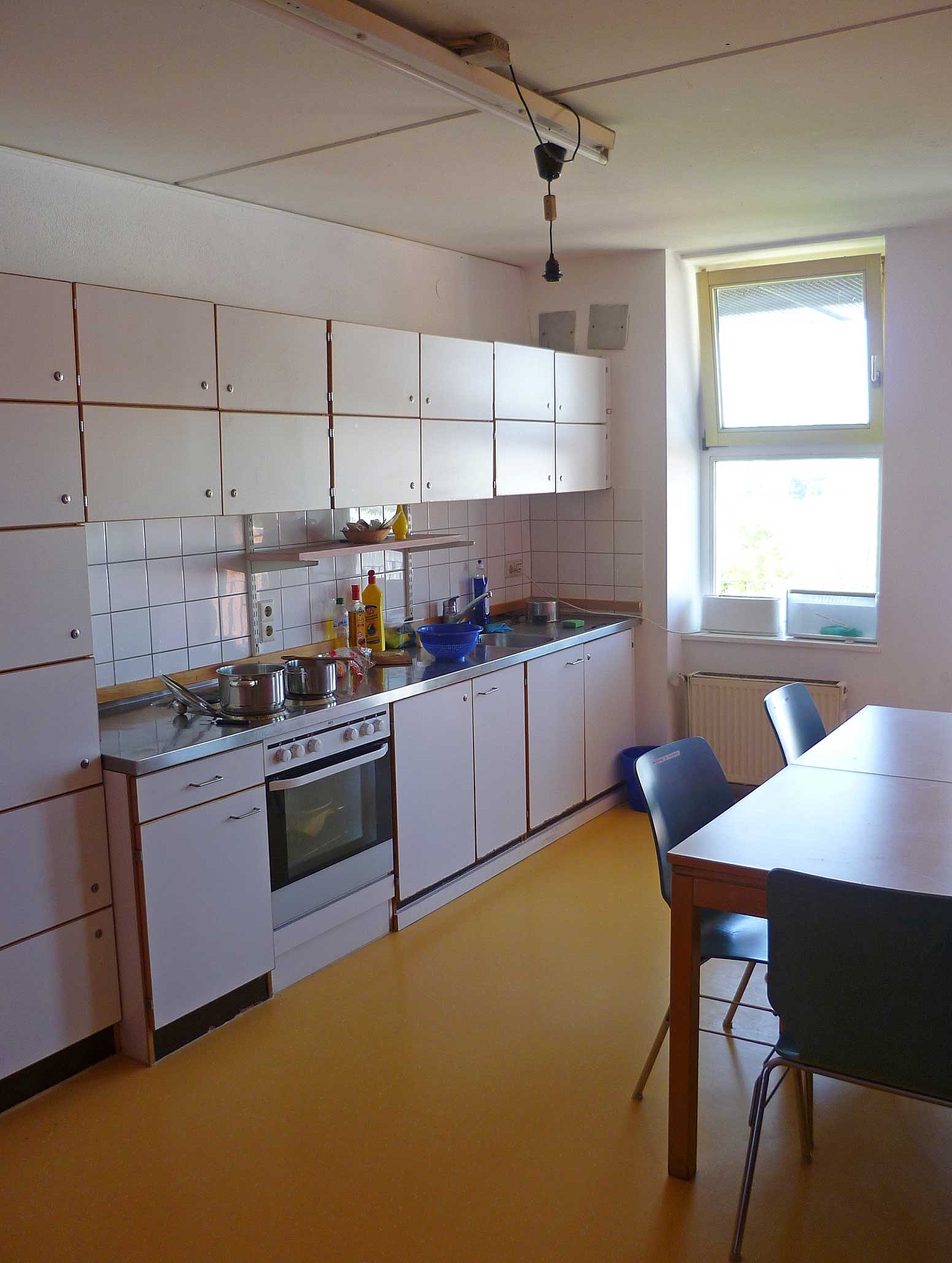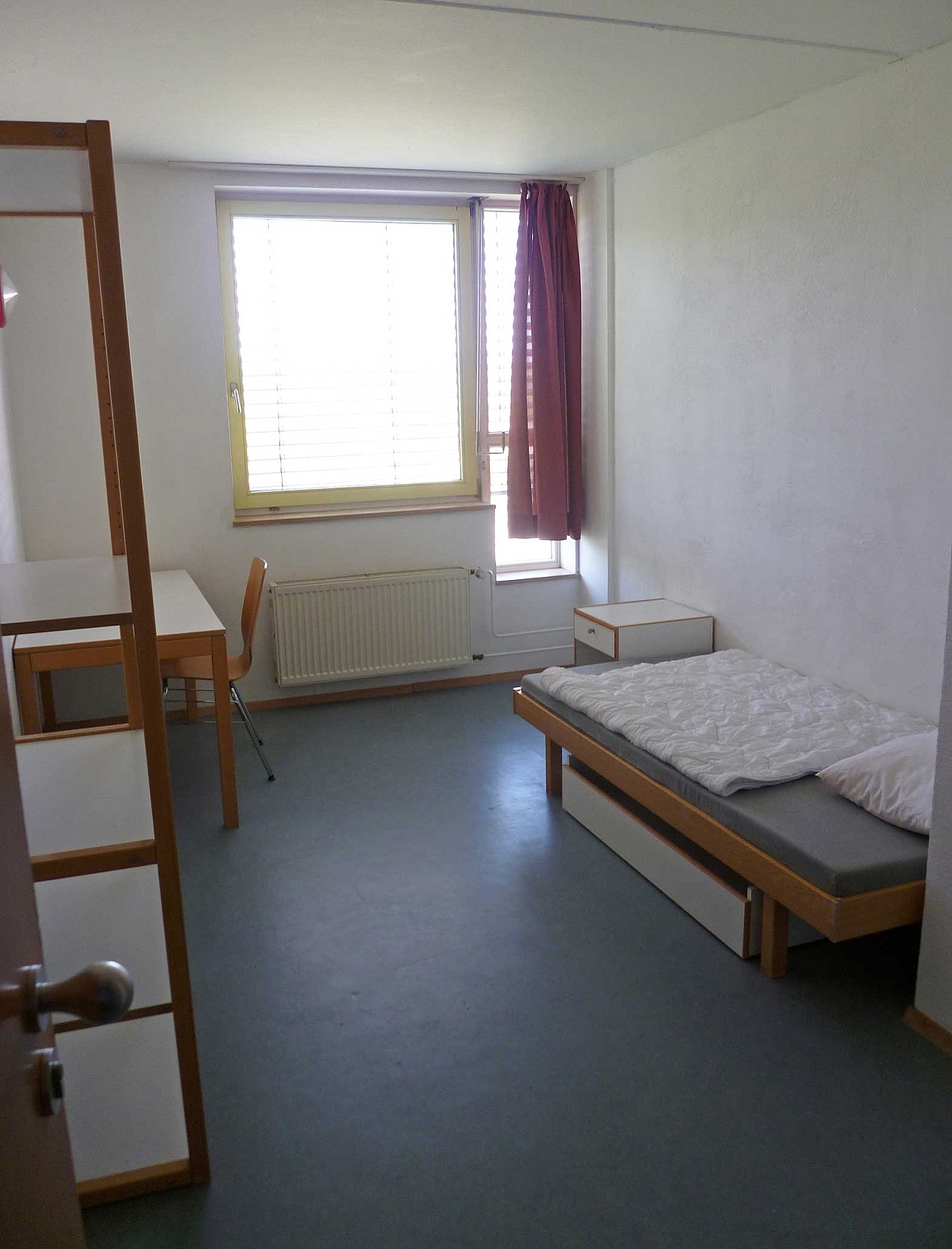 Shared kitchen per floor (15 – 24 persons) with balcony
Two neighbouring rooms share a bathroom
Community room
Washing machines and dryer in the basement
Free parking
Rooms
LAN connection
Room size: 13 - 20,5 m2
Equipment
Bed with mattress, blanket and pillow
Chair
Desk
Wardrobe
Shelf
Rent
243 €/month
Deposit: 600 €
https://www.my-stuwe.de/en/housing/halls-of-residence/schelmenwasen-10/
Sudetenstrasse (NOT offered to EXCHANGE STUDENTS)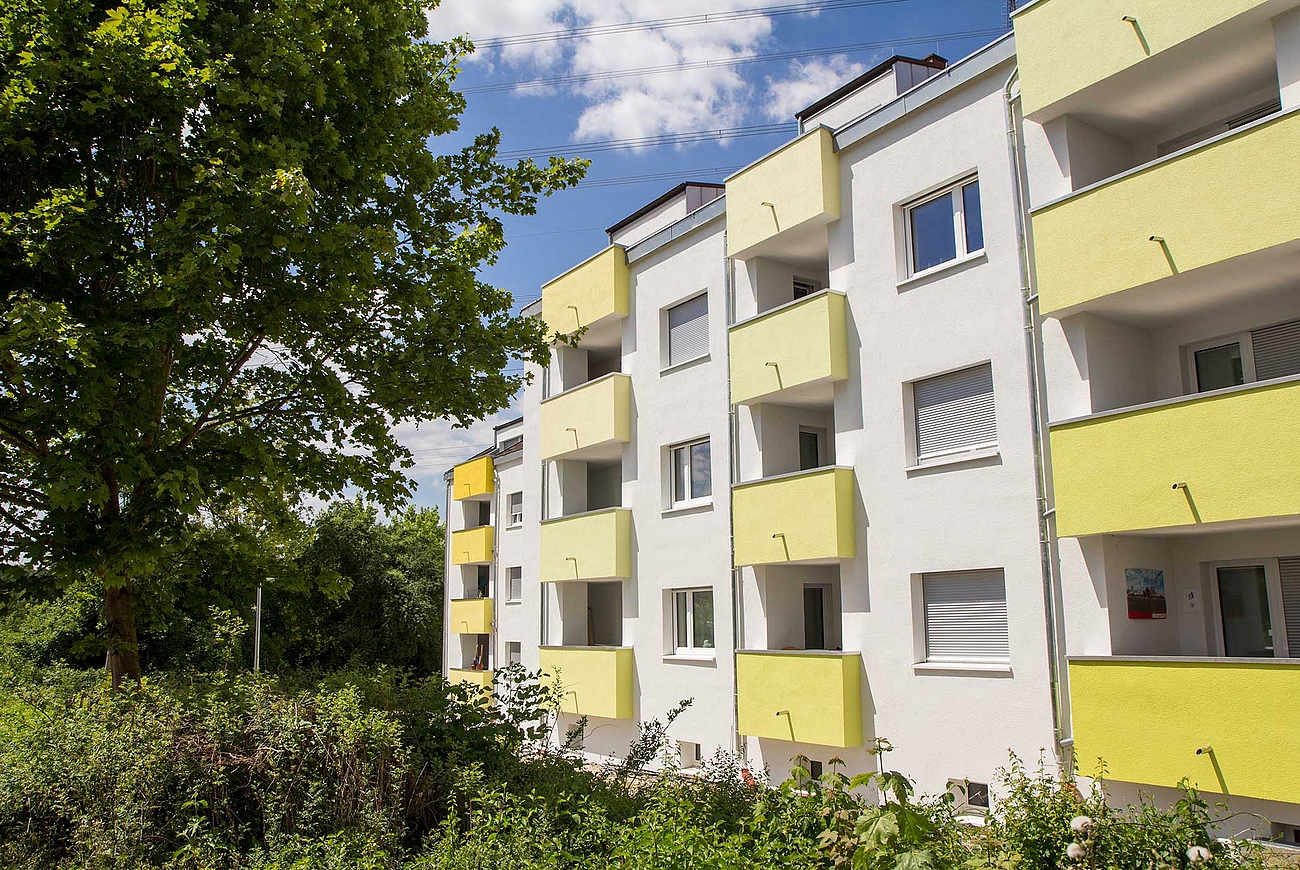 Unfurnished shared appartments
91 single rooms
2 or 4 students share an appartment
Room size: 9 - 22 m2
Rent: € 187 - 264
Deposit: € 400
Unfurnished single rooms
3 single rooms
Size: 22 m2
Rent: € 302
Deposit: € 600
Equipment
Shared kitchen (each apartment)
Shared bathroom (each apartment)
Washing machines and dryers in the basement
WiFi (Nuertingen-Geislingen University)
Wardrobe
Application and Payment of Rent
Once we have received your nomination from your university you will receive information on how to apply online for a room in the residence hall. The application process can be started from April 1st or October 1st for a room in the following semester.
Please note that a room in the residence halls can only be rented for the entire semester (March 1st - August 31st respective September 1st - February 28th). There are no move-ins possible during weekends and on public holidays.
For the payment of the rent, students have to sign a document (Einzugsermaechtigung) which authorizes the Studentenwerk - the organisation responsible for the management of the residence halls - to withdraw the rent from your bank account. You will open a German bank account during the orientation week.
Rent is due during the first week of every month.
The first rent (March respectively September)  will have to be paid into your bank account in Nuertingen (cash) during the orientation days and then be transferred to the account of the Studentenwerk. The deposit of 600€ must be transferred to the account of the Studierendenwerk in advance once you have signed the rental contract. Note: your bank might charge you an extra fee for the international money transfer service. For more information, please contact Andrea Heissler. The deposit will be fully refunded if you leave the room in good condition. This process can take up to 3 months after the end of the lease.