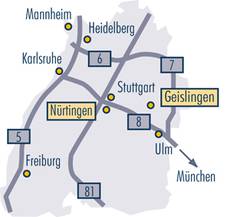 Nuertingen-Geislingen University (HfWU) is located with major campuses in the two cities of Nuertingen and Geislingen near the "Autobahn" connecting Stuttgart and Munich. 
The cities of Nuertingen and Geislingen are located about 40 kilometers apart from each other between Stuttgart, the capital of the State of Baden-Wuerttemberg to the northwest and Ulm to the southeast. 
The Greater Stuttgart Area - with its industrial giants such as Mercedes, Bosch, Porsche, HP and IBM - is known as one of the most booming regions in Germany and one of Europe's leading technology regions. Baden-Wuerttemberg is also a very safe place to live.
Nuertingen-Geislingen University is perfectly located for travelling. If you travel two hours to the south, you will be at the shores of the Lake of Constance, one of Europe's largest lakes, bordering Germany, Switzerland and Austria. Just two hours to the east, visitors can enjoy Munich, Bavaria's famous capital. Two hours to the west, Straßburg, France's border city to Germany is the place to be.