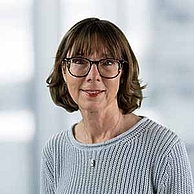 Direktorin für Internationale Hochschulangelegenheiten, Professorin für Marketing und Marktforschung // Director International Affairs / Professor of Marketing and Marketing Research
Sigmaringer Str. 25
72622 Nürtingen
"I used to think there was only one type of education."
"Now I know there are different school systems. Like the Kindergarten in forest. So cool!"


---

"I used to think Germans only ate pretzels and sausage and drank beer, would only speak German, were very "stand-offish", mind their own business and go about their day."
"Now I think Germans have a variety of delicious food and drinks, are very nice, welcoming and open and (many of them) speak several languages."


---

"I used to think early childhood education was only for the wealthy."
"Now I think early childhood centers can either be highly supported / or not by surrounding communities and that makes the world of a big difference."


---

"I used to think the food portions here were small."
"And now I think that I should split a meal with someone else."


---

"I used to think that there was only one universal type of school in Germany."
"Now I think that there are diverse and interesting types of educational institutions (e.g. forest Kindergarten, types of secondary school) in Germany."


---

"I used to think I didn't know what I was doing in this program and I wouldn't learn much in this program."
"And now I think that the program was a lot of fun! I wish I could do it again! And I think I learned a lot from this program!"


"The professors that led the lectures were amazing!"
"I loved all the lectures. I would give them all a 4/4. I enjoyed each one & took valuable lessons from them."
"A personal highlight was making friendships with the most unexpected people here on this trip."
"Getting to experience what it is like in a foreign country; getting to see the castle (Neuschwanstein); interacting with the community and the professionals"
"As far as experiences it was just awesome getting to enjoy the many educational opportunities for growth that Germany has to offer their children "
"The forest kindergarten was so fun and also the adult disability center! I loved that even though it rained most of our trip, all the girls were not bothered and we all got along quite well! It really makes the experiences that much better when you get to do them with good friends and the best advisor too!"
We are pleased to offer a tailor-made program to our partners upon request.
 "P.S. Germany" stands for "Project Studies in Germany". This two weeks´ program started in June 2015 for the first time and is assigned for students of our partner universities to complete their international practicum experiences. It offers the students
an insight into the German educational system and social life
an interesting and valuable mix of English lectures, complemented by visits of social institutions in Nuertingen and its surroundings
studying & working in a global atmosphere
some sightseeing highlights in southern Germany
the development of lifelong friendships and of a worldwide network
free weekend for individual travel plans within Europe
Please find attached the P.S. Germany program from 2017 as an example.
Please find attached the P.S. Germany FAQs from 2017 as an example.